Zaira stove pellets Glass Eva Calor 13 KW
Zaira stove pellets Glass Eva Calor 13 KW
Security policy : all payments via credit cart or paypal will be secure at 100% by paypal secure web site

For small packet there are 2 delivery attempts; for big item like stove the shipper will call before delivery the goods.

The goods may be returned in 15 days, please write an email or call us if you are not sure of the product to avoid shipping fee.
Zaira stove pellets Glass Eva Calor 13 KW
Modernity at its purest
Eva Calòr is delighted to present the rst stove with ADSD (Air Di usion System Door): with this system a stream of air ows over the door and the glass panels, which are the hottest parts of the stove, absorbing the heat and exiting at the bottom of the front panel. The system reduces the time needed to heat the room, thanks to a more even distribution of the heat.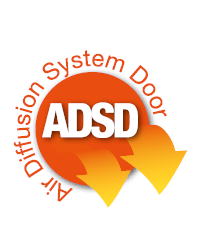 ADSD
This system can reduce the time required for the stove to achieve the desired ambient temperature. In stoves with the Air Diffusion System Door installed, an air current flows over the door and front window, absorbing heat and warming the surroundings after exiting through the bottom of the door and the upper slots. 
Total heat output: max 12,9 kW – min 4 kW
Nominal heat output: max 11 kW – min 3,5 kW
Efficiency: Pmax 85% – Pmin 87,5%
CO emission at 13% O2 (%): Pmax 0,013% – Pmin 0,049%
Pellet consumption: max 2,68 kg/h – min 0,83 kg/h
Reservoir capacity: 15 kg
Heatable room volume: 200 – 300 mc
Minimum distances from flammable walls: side: 30 cm - back: 20 cm -  front side: 100 cm
Voltage / Frequency.: 230V – 50 Hz
Rated input power: 320 W
Dimension: L 47,5 x P 51,2 x H 100
Weight: 127 kg
Cast iron heating chamber: Cast iron
Complies with: EN14785 - BImSchV II - 15a B-VG - LRV/VKF
Sliding drawer for ash removal
Fume outlet: Rear
Remote control: Optional
GPRS module for switching on remotely: Optional
WIFI module for remote control: Optional
Platforms for protection: Optional